Concurrent Talks & Poster Sessions
A 4″x6″ Pocket Guide will be given out at the conference (author, titles and times only for talks), but if you'd like the full outline of abstracts, you can download and print out the Abstract Book IBS Malaga 2019
Held in the afternoons of January 9-11th, 2019 and will be of two different styles:
15 minute talks

12 min talk plus 2-3 minute question period.

5 minute mini-talks

5 min talk (no questions) OR
4 min talk (+1 min questions)
quick overview

Screen format for both will be 16:9
Held the evenings of Jan 9 & 10, 2019
Posters dimensions:
Portrait format
~90 cm width x ~120 cm height  (Poster boards are 97 cm width by 2.40 m height)
Features:
Grouped into topical sessions
Presenters staggered at poster (one of two nights, leaving one night to see other posters)
Presenters can pre-invite up to 5 attendees to visit their poster (via invitation program)
Snacks and drinks available
Social Media Guidelines:
Our approach regarding social media including tweeting and photographs during the conference (including talks) that may be distributed, is as follows:
In line with other international societies that strive for accessibility, we have a policy to encourage attendees to tweet quotes and post pictures.  Tweets and photography of slides, in particular, allow greater accessibility to members that could not attend the meeting or those that would like information on particular topics to peruse later.   However, if presenters prefer not to have their talks tweeted or exposed via social media, please consider making a small announcement at the beginning of your talk and/or include the following symbol indicating which slides you do not want to have posted: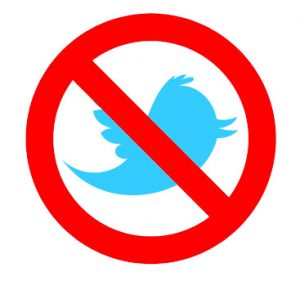 Please also consult our code of conduct to ensure that all material distributed via social media adhere to the code of conduct throughout the meeting.
If you need to print a poster in Malaga, before the conference, please note that January 7th is a bank holiday and many things will be closed.  Please plan ahead!
Potential places to print a poster (Jan 8):  the city center store in "Alameda 42"
https://www.copicentro.net/tiendas/malaga/malaga
Biennial Conferences of the International Biogeography Society are a little different than most conferences – deliberately.  We focus on a shared conference experience for the three symposia each morning, breaking off into four concurrent sessions for the afternoons, followed by two highlighted poster sessions.  The good news is that there's more shared things to talk about with your new or old conference friends and more opportunities for making connections!  The challenging part is that this means there are less talk slots available than in most conferences.  We work hard to balance this by having two fantastic, very interactive poster sessions (there's food & drinks & the ability to directly invite conference attendees to your poster) and we are happy to write an explanatory letter for your university regarding the above if it would help with your university funding requirements.  Contact us  with any questions.